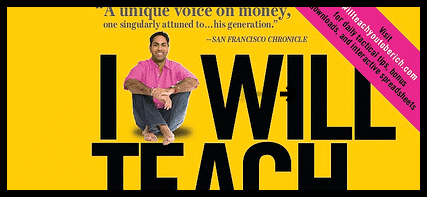 I Will Teach You to be Rich
Book Review
Most people are taught money management skills when they are younger. They either learn by observing, experience, or from their peers when they get older. And then some of us need a book…
I Will Teach You to be Rich, is a great irreverent style book. It is geared towards young people ages 20 to 30. This no nonsense approach teaches you that there is more to saving money then breaking your habit of lattes.
The author, Ramit Sethi, has a blog of the same title. He offers solid advice on automating your cash flow, getting a raise, and enjoying your spending but doing it consciously.
Growing up, I wasn't taught excellent money management skills. This book has been of great benefit to me. In six weeks, you will learn how to: optimize your credit cards, set up a high interest bank account, open investment accounts, figure out how much you're spending, automate your finance infrastructure, and learn detailed information about investing.
Humor, Indian wisdom and a blunt style of teaching. Love it. Highly recommend picking up a copy of this excellent book.
---
---
Date
August 28, 2011
---
---