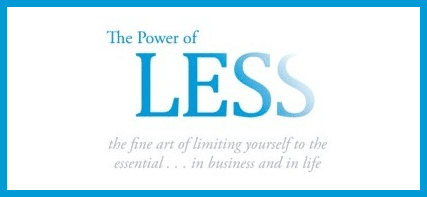 The Power of Less
Book Review
One of my most favorite books ever. Repeatedly, I try to consume it as much as possible: hardcover, Kindle edition and audiobook. This book has changed my life.
Do one thing at a time. Do it well. — Leo Babauta
The Power of Less is a testament to itself. Author Leo Babauta hits the right points and delivers in a clear concise way. No clutter or fluff — just what you need.
If there is one theme that I personally got from the book it would be: focus. ( Coincidentally enough that is the title of his new book. ) It teaches you to slow down and focus on the things which are important. The hard part is identifying what exactly that is but he offers advice on determining that as well.
Anyone that is looking to lose weight, quit smoking or tackle a major life goal please read this book. It was a major turning point for me in my journey with weight loss. Really helped me keep track by setting small achievable goals, measuring them and keeping myself accountable.
If you are dealing with information overload, want to be more productive or simply just desire to get rid of a ton of unnecessary stress then grab this book. Highly recommended.
---
---
Date
March 11, 2011
---
---